How COVID-19 has affected migrant workers in Eastern Europe and Central Asia
A report by BEARR Trustee Janet Gunn
12 June 2020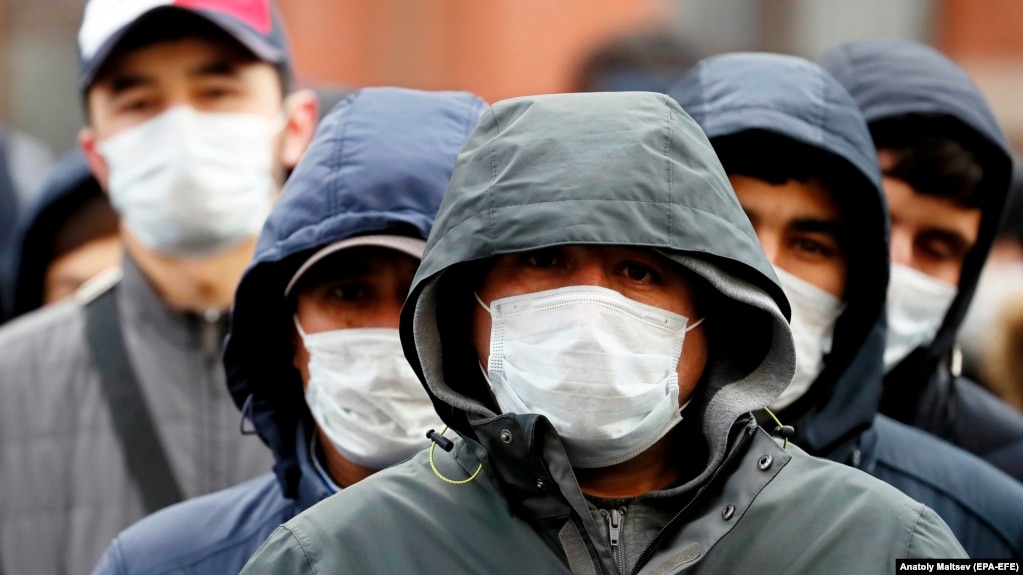 Origins and destinations of migrant workers
Migration for work is widespread across Eastern Europe and Central Asia. Globally, an estimated 7.6 million international migrants are from Central Asia. The main countries of destination for them are the Russian Federation, Turkey, and Kazakhstan. Around a million out of a total Moldovan population of 3.5 million are working abroad, mainly in Russia, Italy, elsewhere in the EU, and Israel. In recent years approximately half of Moldovan migrant workers have been women. A 2016 report found that around 48 per cent of Moldovan women who leave to work abroad go to Russia, while 31 per cent head for Italy. Israel is the next favourite destination for Moldovan female migrants. Moldovan men mainly work in Russia. Between one and two million Ukrainians work in Poland and further west in the EU.
The Russian Federation alone hosts approximately 12 million migrants. According to a report based on material from Novaya Gazeta, in 2019, 19 million foreigners were officially working in Russia – for perspective, there are 74.5 million Russians employed throughout the country. According to some estimates, some 60 percent of migrants are in the country illegally.
Legal rights and healthcare for migrant workers
Labour migrants often work in the informal sector or grey economy, where the lack of legal protection and insufficient information about the rights they have make them vulnerable to exploitation and abuse from recruiters, employers, and authorities. They are also exposed to abuse resulting from xenophobia and racism.
Migrants from Kyrgyzstan and Kazakhstan (which belong to the Eurasian Economic Union) do not need a work permit to work in Russia. Workers from Uzbekistan and Tajikistan, in contrast, are required to apply for a work permit and to renew it annually. Workers from Belarus, Armenia, Kyrgyzstan and Kazakhstan are eligible for state medical insurance though this does not cover TB and HIV. (Russian federal law requires foreigners diagnosed with either condition to be deported.) If an undocumented worker or one with TB or HIV leaves Russia they will not be allowed to re-enter. As a result, many of them live below the radar and are very vulnerable, with little access to medical care. Those without access to state medical insurance can buy private insurance, but the basic package provides only emergency care. Most migrant workers are young males, who spend up to a year away from home, and many use sex workers, so HIV transmission is a major risk, especially as awareness of the risks is low among many migrant workers. Russia in the past decade has had among the highest HIV incidence in the world.
The immediate impact of COVID on migrant workers
According to data from December 2019, there were over 1.6 million migrants living in Moscow, mostly from the five post-Soviet republics of Central Asia. They mostly work in the service sector, housing and communal services or on construction sites. These sectors of the economy were those hardest hit by the self-isolation regime introduced in Moscow on March 30. But dismissals of migrant workers from these jobs began earlier, in mid-March.
Human rights activist and lawyer Zarnigor Omonillayeva notes that migrant women were among the first to suffer the consequences of the pandemic: "In Russia, migrant women are mainly employed in the service sector and as cleaners — the sectors of the economy which were the first to shut down. The first calls we received about mass layoffs and unpaid wages came in mid-March, and came from women. The highest number of layoffs came on 27-28March, and many people did not receive their wages in full. They had worked for almost the entire month, yet received only half their wages or nothing at all."
On 18 March Russia closed its borders. Most Central Asian states followed suit shortly after. While Central Asian embassies laid on some evacuation flights, many of their citizens remained in Russia.
Those left without work were unable to pay for their employment permits. These documents are required of all foreign citizens with visa-free access to Russia (with the exception of those from fellow members of the Eurasian Economic Union: Armenia, Belarus, Kazakhstan, and Kyrgyzstan). The initial registration of an employment permit costs 12,750 rubles (£140), followed by monthly payments thereafter. In Moscow, the monthly payment comes to 5,350 rubles (£60) — a large sum to an unemployed person. Therefore, migrants, human rights activists, and embassy staff have been appealing to President Vladimir Putin through social networks and mass media to cancel these payment requirements.
As of the end of April, in Moscow and Moscow oblast alone, approximately 10,000 Kyrgyz migrants lost their jobs and ran out of means of support. There are reports of migrants who had to vacate their rented apartments and could not afford to rent new ones. Also, some migrants were not allowed to leave the transit zone of the airports. Over 400 Central Asian citizens had spent nights at the Vnukovo airport in Moscow, before the airports fully closed their doors leaving the migrants outside. In addition, migrants from Central Asia got stuck at the airports of Novosibirsk, Ufa, Krasnodar and Yekaterinburg, prior to the full closure of those airports. Among vulnerable migrants, it is estimated that around 40 per cent are women and children.
Response of the authorities and civil society organisations
The authorities have met migrants halfway, but they took their time. On March 19, the Russian Federation's Ministry of Internal Affairs allowed migrants to apply for new work permits and extend their temporary residency permits. Given that the country's borders were already closed, this allowed many migrants to stay in the country legally. A month later, on April 18, Putin passed a decree exempting migrants from payments for their work permits from March 15 to July 15. The validity of temporary residence permits and migration cards have been extended for the same period. President Putin announced benefits payments to people who had lost their jobs because of COVID, but it is not clear whether migrants are able to access these.
The first positive coronavirus cases among Russia's labour migrants began to be recorded in early April. At the time, human rights defenders and the embassies of Central Asian countries were receiving hundreds of calls every day. Once human rights activists and diplomats realised that panic was widespread and growing among migrants, they came together to provide qualified assistance. This led to the creation of the Council for Assistance to Migrants in early April, including representatives from the Embassy of Uzbekistan, Uzbekistan's Agency for External Labour Migration, and Kyrgyzstan's State Migration Service, alongside human rights defenders, lawyers, journalists, and various NGOs. The council performs several functions: it provides counselling and psychological assistance, helps call an ambulance, and provides food and medicines for migrants living in apartments and hostels. Its hotline is available in Russian, Kyrgyz, Tajik, and Uzbek.

On April 30, Moscow Mayor Sergey Sobyanin declared that migrants would not be denied medical assistance if they need it. It appears that while migrants are treated free in Moscow's hospitals, reaching them still requires a great deal of effort on their part.
Effects in communities of origin
Among countries most dependent on remittances from migrant workers as a percentage of GDP are the Kyrgyz republic (33%), Tajikistan (29%), Moldova (16%), Uzbekistan (15%), Armenia (12%), Georgia (11.6%), Ukraine (11%) [World Bank statistics for 2018].
At a time when COVID-19 responses have badly affected all economies, declining remittances place additional downward pressure on local economic activity across communities of origin. In communities where remittances represent a large portion of income, effects are considerable. As countries went into lockdown and people lost jobs, remittances to families staying back were bound to decline, leaving them with fewer resources to manage environmental or climatic risks (e.g., variable rainfall, landslide, floods, drought, etc.) and eroding a vital economic safety net in countries of origin. The anticipated 15 per cent decline in remittances to Kyrgyzstan this year, for example, will translate into a loss of approximately US$ 361 million in local economies (almost 5% of GDP). Remittances to Moldova by migrant workers in 2017 totalled 971.4 million euros, of which a third from Russia and a third from EU countries.
Poverty, homelessness and food security
The International Organisation for Migration (IOM) launched an appeal for US$7m in May, to ease the impact of COVID-19 on migrant communities in five Central Asian states and in Russia, where many are falling into poverty. Their jobs have disapppeared due to the lockdown and they are finding it hard to return home because borders are closed and they have little money and nowhere to stay The appeal aims to help thousands who are stranded in Kazakhstan, Kyrgyzstan, the Russian Federation, Tajikistan, Turkmenistan and Uzbekistan. A large number of Tajik workers, for example, are trapped in Kazakhstan, unable to cross into Uzbekistan and thence back home.
Homeless people, some of whom are migrant workers no long able to pay their rent, have suffered especially in COVID-19 conditions – they are liable to be arrested for failing to observe the lock-down, they have no access to washing facilities because shopping malls and other public facilities are closed, and healthcare facilities other than for COVID-19 are much reduced. In Russia civil society has been trying to help them by providing meals and some healthcare, but they cannot provide shelters etc.
Food security is threatened too. Roughly one-third of the populations of Armenia, Georgia and Tajikistan are chronically food insecure. Add an economic crisis of as-yet unknown dimensions to obstructed supply chains and a less predictable climate, and the authorities are clearly worried.
On 1 May the UN said that 500,000 Kyrgyzstanis required immediate direct food assistance, with about 1.83 million in total (29 percent of the population) needing food or cash assistance of some kind. It also said that 400,000 farmers need "support to sustain and maintain" this year's agricultural season. Kyrgyzstan imports about half of the wheat it consumes. The UN's Food and Agriculture Organisation (FAO) forecasts that imports will need to be 10 percent higher than average in the first half of the year to make up for reduced domestic output. Uzbekistan, and Tajikistan, where there is also an almost unprecedented threat from locusts, are also affected.
Armenia is also particularly shock-prone. Recent government statistics say the country imported one-third of its wheat supply in 2018, almost all its rice and the majority of its maize. It also imported almost half of its pork and 69 percent of its poultry. Georgia imports a lot of its food, especially from Russia, which has placed a limit on wheat exports this year. Factors such as panic-buying, supply-line disruption, and exchange rate deterioration have led to price rises of 10-15% at a time when incomes are sharply reduced.
What next?
At the time of writing some lockdown restrictions are being eased. However, it is too early to know how many of the jobs previously done by migrants will still exist as the pandemic subsides, or to estimate how badly their countries of origin will suffer economically from the combined effects of their own pandemics and the loss of remittances from the migrant workers. Socially, there are likely be serious longer-term consequences for migrant workers' families in both countries of origin and destination, from increased unemployment, poverty, homelessness, domestic violence, and inadequate or unaffordable healthcare. To what extent civil society organisations will be in a position to help is difficult to anticipate, but charitable donations will almost certainly decline, while hardship and social stress will be on the increase in host societies as well as among migrant groups.
Sources/further reading
https://www.crisisresponse.iom.int/sites/default/files/appeal/documents/Central%20Asia%20and%20Russia%20appeal%2008.05-FINAL.pdf
https://www.ilo.org/moscow/areas-of-work/labour-migration/lang–en/index.htm
https://eurasianet.org/food-security-in-the-time-of-coronavirus-a-eurasianet-briefing
https://www.opendemocracy.net/en/odr/russia-labour-migrants-covid19/
https://www.tol.org/client/article/28871-trapped-millions-of-migrant-workers-struggle-through-russian-quarantine.html
https://data.worldbank.org/indicator/BX.TRF.PWKR.DT.GD.ZS