Kyrgyz protests after bodies found in suspected 'bride kidnapping'
---
8 April 2021
Outraged protesters are intensifying calls for dismissals and other official actions one day after the bodies of a young woman and her suspected abductor were discovered in a case that highlights the ongoing — but banned — practice of "bride kidnapping."
One of the bodies, found in a car near a remote field in the Chui district of Bishkek on April 7 after a two-day search, showed signs of strangulation and the other had knife wounds.
Authorities said they suspect a murder-suicide.
Civil society groups and other Kyrgyz have responded with reminders of past tragedies and with urgent calls for authorities and society to crack down on the persistent practice of such kidnappings.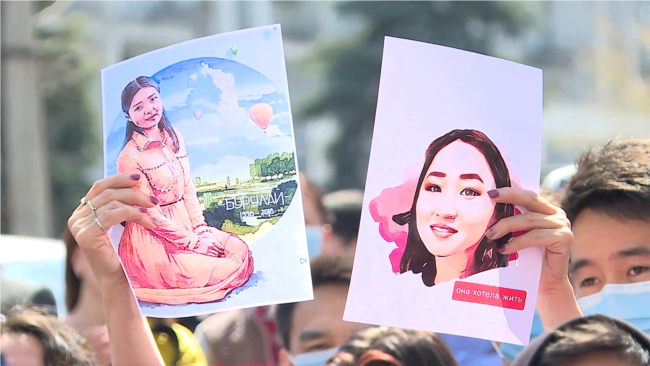 ---
Demonstrators assembled in several cities on April 8, including in front of the Interior Ministry in the capital, Bishkek, and outside a police station in the southern city of Osh.
In the capital, where the kidnapping took place, protesters are demanding the resignation of Interior Minister Ulan Niyazbekov.
Niyazbekov has not responded to the protesters.
Prime Minister Ulukbek Maripov met with the protesters and said that the activities of Interior Ministry officials in the situation that led to Kanatbekova's death will be investigated.
When Deputy Interior Minister Erkebek Ashirkhojaev visited parliament after noon on April 8 to report on the case, some lawmakers also demanded Niyazbekov's dismissal.
Police said the car at the center of a search since 27-year-old Aizada Kanatbekova was abducted by several people on the streets of Bishkek on April 5 was found in another part of the city two days later.
A surveillance camera caught the moment of the abduction — in broad daylight at a major intersection — and the failure of passersby to assist Kanatbekova.
The same car, with the bodies inside, was found by a shepherd.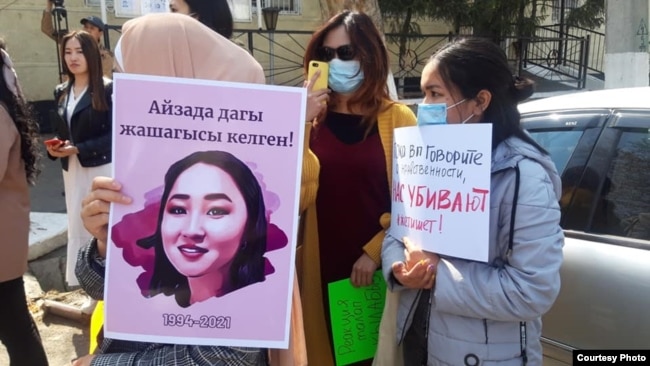 "A local shepherd saw the car on April 5 and 6 and thought it was stuck in the mud," police said. "Only on April 7 did he approach the car and see the corpses of a woman and a man in the cabin, after which he immediately reported it to the police."
A case was opened under Article 175 of the Kyrgyz Criminal Code on "kidnapping for the purpose of marriage."
The suspect who hoped to press her into marriage is reported to have been 31 years old.
Bishkek police on April 8 identified the suspect as Zamirbek Tenizbaev, who has been convicted in Russia three times on charges of theft, robbery, and extortion.
President Sadyr Japarov condemned bribe-snatching in Kyrgyzstan, saying in a Facebook statement that "all those who take part, or allow a young woman's abduction, must face punishment in accordance with law."
"What happened to Aizada is a tragedy and there's pain not only for her family but for our country in general," he added.
"I want to separately address the Interior Ministry — law and order in our society must be above everything. Nobody should forget about that…. I am taking Aizada Kanatbekova's case under my personal control. This case must be taken care of to its conclusion," Japarov said, expressing his condolences to the victim's relatives.
Interior Ministry spokesman Ulan Jumakov told RFE/RL on April 8 that three men suspected in taking part in Kanatbekova's abduction had been apprehended.
Meanwhile, Kanatbekova, the only child of a single mother, was buried on April 8 in her native town of Balykchi in the Issyk-Kul region.
Kyrgyzstan sees thousands of bride kidnappings each year despite its criminalization in 2013.
One of the most notorious cases involved the stabbing death in 2018 of 20-year-old university student Burulai Turdaaly Kyzy by a man who authorities said abducted her for a forced marriage.
Prosecutions for such abductions are rare, but Turdaaly Kyzy's 29-year-old killer was convicted and sentenced to prison.
A women's rights researcher for Human Rights Watch (HRW) complained a year later that "it's outrageous that the government hasn't done everything possible to enforce laws that could save women's and girls' lives."
"Passing laws is a good first step, but it is far from enough to ensure real protection," researcher Hillary Margolis said.
Activists say that in addition to occasional deaths, the practice often leads to marital rape, domestic violence, and other traumas.
The UN Development Program estimated in 2019 that about 14 percent of Kyrgyz women under the age of 24 were married under some form of coercion.
https://www.rferl.org/a/kyrgyz-protests-bride-kidnapper-deaths/31192805.html