Mariupol Maternity Hospital Destroyed
Mariupol Maternity Hospital Destroyed By Russian Air Strike, Triggering Global Horror, Outrage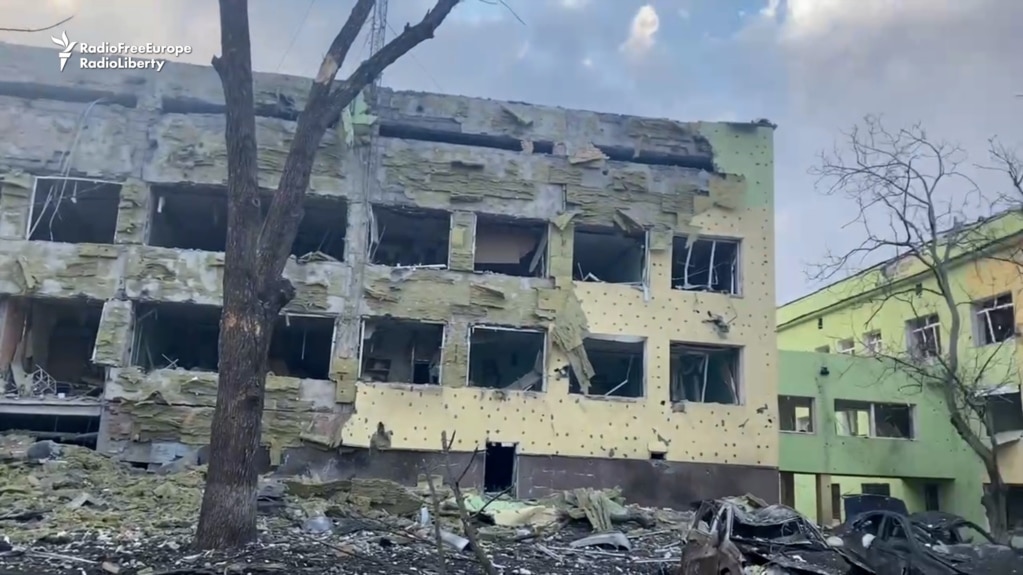 A Russian air strike has devastated a maternity hospital in the beleaguered port of Mariupol and wounded at least 17 people, Ukrainian officials said, triggering international condemnation from Washington, London, and the Vatican, among others.
The hospital bombing came as humanitarian corridors set up to let civilians flee several besieged cities around Ukraine failed to materialize on the scale expected because of continued fighting, leaving hundreds of thousands trapped without basic supplies because of Moscow's unprovoked invasion.
Mariupol's City Council said a Russian attack on the hospital on March 9 caused "colossal" damage, while President Volodymyr Zelenskiy wrote on Twitter that there were "people, children under the wreckage" of the hospital. He called the strike an "atrocity" as authorities try to establish how many people had been killed or wounded.
"Children are under the wreckage. This is an atrocity! How much longer will the world be an accomplice by ignoring terror? Close the sky right now! Stop the killings! You have power but you seem to be losing humanity," Zelenskiy wrote referring to his calls for NATO to establish a no-fly zone over Ukraine.
The ground shook more than two kilometers away when the Mariupol complex was hit by a series of blasts that blew out windows and ripped away much of the front of one building, the AP news agency reported.
Police and soldiers rushed to scene to evacuate victims, carrying out a heavily pregnant and bleeding woman on a stretcher.
Another woman wailed as she clutched her child. In the courtyard, mangled cars burned, and a blast crater extended at least two stories deep.
"Today Russia committed a huge crime," said Volodymyr Nikulin, a top regional police official, standing in the wreckage. "It is a war crime without any justification."
The White House condemned the "barbaric" use of force against civilians.
"It is horrifying to see the type of, the barbaric use of military force to go after innocent civilians in a sovereign country," Press Secretary Jen Psaki told reporters when questioned about the strike.
"There are few things more depraved than targeting the vulnerable and defenseless," British Prime Minister Boris Johnson tweeted, adding that Russian President Vladimir Putin will be held "to account for his terrible crimes."
The Vatican's Secretary of State called the bombing "unacceptable."
"I say bombing a hospital is unacceptable. There are no reasons, there are no motivations, to do this," Cardinal Pietro Parolin told journalists who asked him at a conference in Rome about the Russian bombing.
The attack came on a day when Russia said its forces would "observe a regime of silence" from 10 a.m. Moscow time on March 9 to ensure safe passage for civilians wishing to leave Kyiv, Chernihiv, Sumy, Kharkiv, and the Black Sea port of Mariupol, which the Red Cross has said faces "apocalyptic" conditions.
But by late afternoon, officials reported mixed results in shuttling people out of the battle zones, with only safe corridors out of the eastern city of Sumy and the southern city of Enerhodar, the location of Europe's biggest nuclear power plant which Russian forces seized last week, being confirmed.
Russian forces were also reported to be preventing a convoy of 50 buses from evacuating civilians from the town of Bucha just outside of Kyiv, local authorities said, adding that talks continued on allowing the convoy to leave.
https://www.rferl.org/a/ukraine-mariupol-hosital-bombed-russia/31744934.html