Zelenska's mental health summit in Kyiv
World's first ladies, gentlemen discuss mental health at Zelenska's summit in Kyiv
Published by Kyiv Independent
(In this version the number of photos has been reduced, for brevity)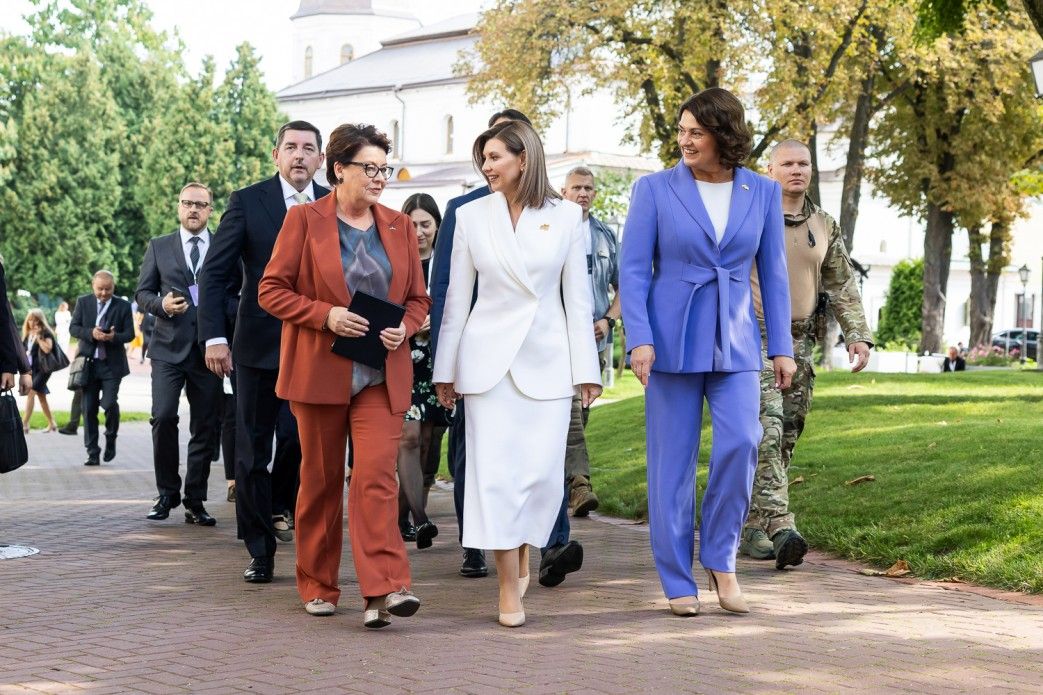 Partners of European leaders, Ukrainian and international officials, as well as celebrities gathered in Kyiv on Sept. 6 for the third Summit of First Ladies and Gentlemen, initiated by Ukraine's First Lady Olena Zelenska.
First held in 2021, the summit aims to bring the world's first ladies and gentlemen together to "promote dialogue and find effective solutions to global humanitarian challenges through soft power, partnership, public diplomacy, exchange of experience, and implementation of joint initiatives."
Held under the slogan "Mental Health: Fragility and Resilience of the Future," this year's event was dedicated to the growing issue of the Ukrainian nation's state of mental health amid Russia's ongoing war. It marked the second summit since the start of the full-scale invasion in February 2022.
Among the speakers were First Lady of Czechia Eva Pavlova, Estonian First Lady Sirje Karis, First Gentleman of Slovenia Ales Musar, Serbian First Lady Tamara Vucic, and Oscar-winning French director Michel Hazanavicius. Legendary British actor and writer Stephen Fry was one of the hosts.
President Volodymyr Zelensky and U.S. State Secretary Anthony Blinken made brief appearances to give speeches.
Russia's overnight attack on Kyiv on the eve of the summit did not mar the one-day event: Even though the night was partially sleepless for many in the capital due to the sound of air raid sirens followed by explosions, the audience and the speakers looked energetic and joyful, greeting each other warmly.
The summit's location — the picturesque courtyard of Kyiv's historic St. Sophia's Cathedral that dates back to the 11th century — added to the general atmosphere. Zelenska called it "the place of Ukrainians' power."
She opened the event with a touching speech.
"When talking about Ukraine, everyone uses the word resilience very often. I think this is true about us, and we understand and cherish it," Zelenska said.
"True resilience begins with an understanding of shared values. And I am proud that Ukraine today is demonstrating to the world what people united by a common value are capable of," she said.
"The core of our values is human life. The basis of human life is love. The secret of our resilience is love… Love for your parents, children, partners, friends, home, country…" Zelenska said, trying to hold back tears.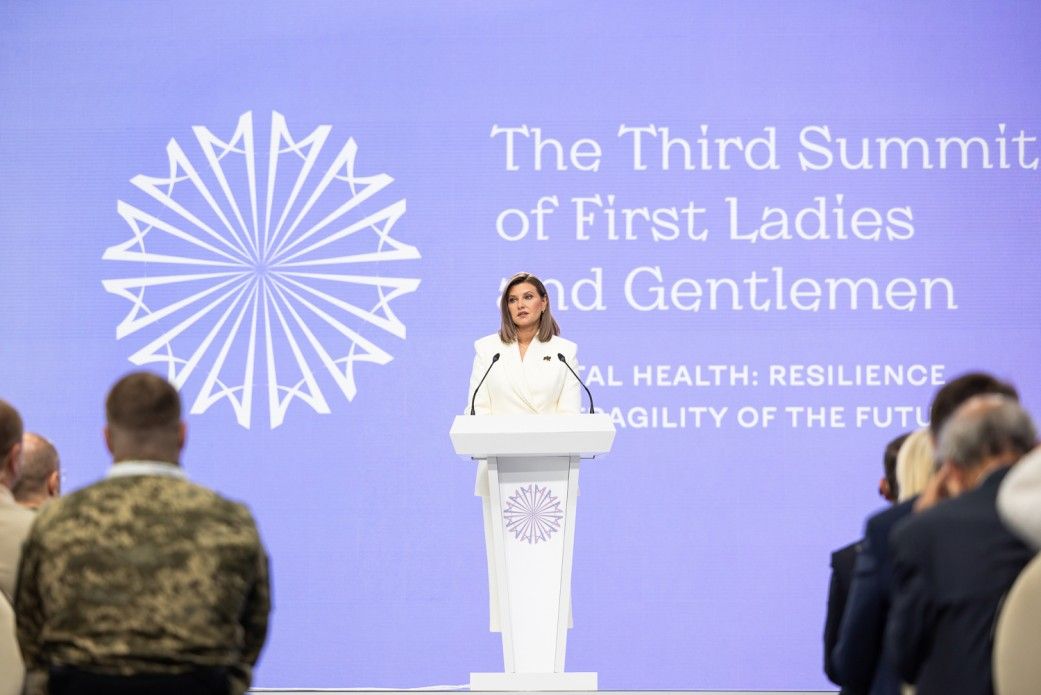 The loudest applause, however, sounded when Zelensky entered the venue. Everyone in the audience stood up, saluting the Ukrainian president.
Zelensky greeted the guests, first ladies and gentlemen, smiled warmly when greeting Zelenska and started his speech with "dear Olena."
"Although the first ladies and gentlemen of the states are not considered to be politicians in the usual sense, they often find such arguments that politicians are unable to, and it works," Zelensky said.
"Thanks to Olena and her communication in the U.S., we managed to make significant progress in getting modern anti-aircraft defenses for Ukraine," he said.
The audience stood up one more time, clapping, when Zelensky asked to honor Ukrainian soldiers defending the country, as they risk their lives, every day. Then, he addressed the growing issue of mental health, saying that it is beyond important for Ukraine.
"The post-war world is vulnerable to emotions, to the accumulated pain of the war, which remains with people for a long time and only becomes more unbearable with time. War is a challenge that does not disappear even after the end of hostilities," Zelensky said.
"The war smolders as long as it is able to hit people from the inside, as long as the losses caused by the war hurt," he said. "No one can be left alone with the war and its effects on the minds and souls."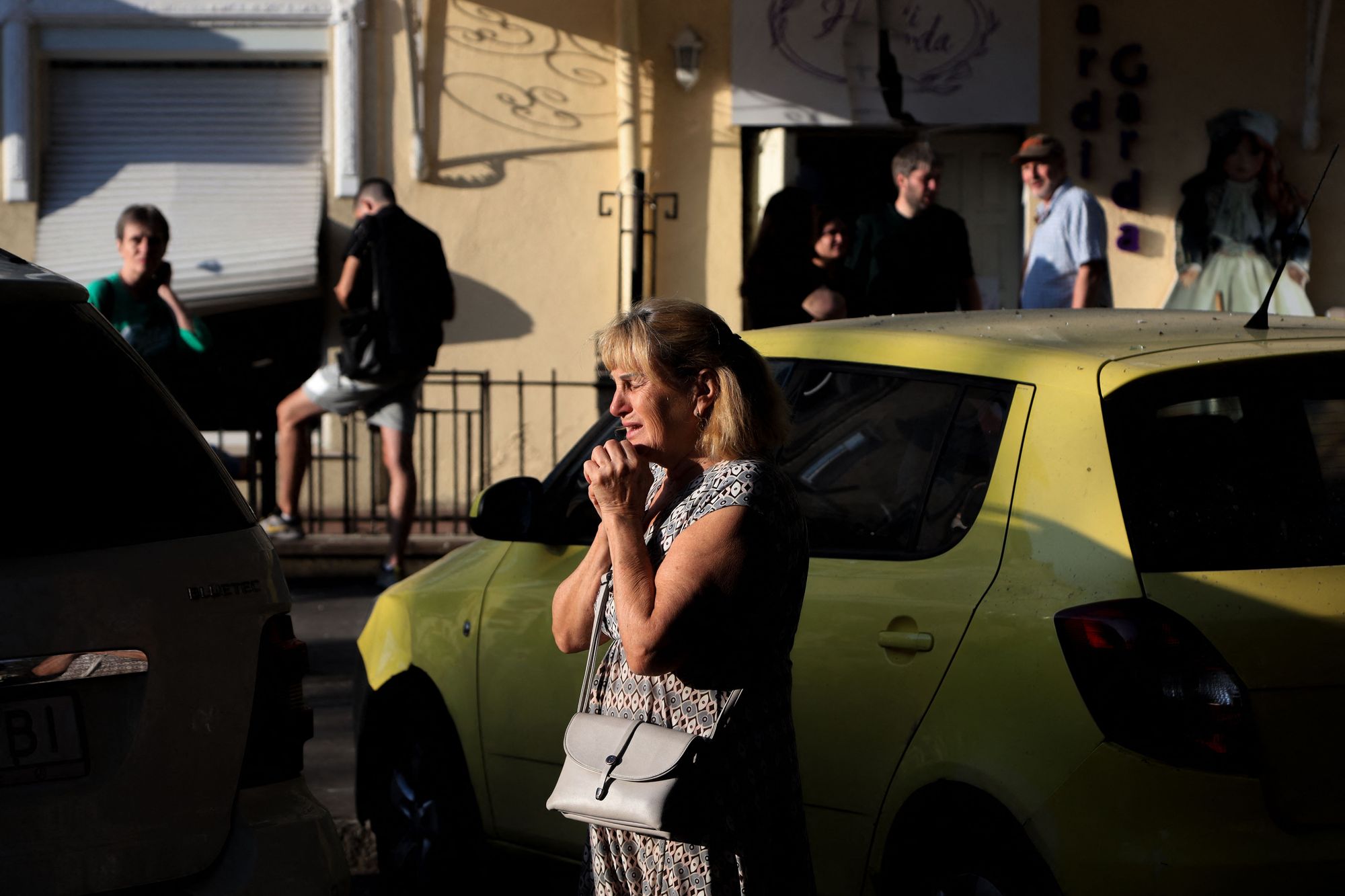 Zelensky noted that mental health is a "special field that requires a special approach," such as "new institutions and new rehabilitation facilities, a new social policy, and new international interaction and agreements."
A touching moment occurred when, before leaving the venue, Zelensky stopped by his wife to give her a kiss. The date of the summit, Sept. 6, also marks their 20th wedding anniversary.
Blinken's short visit was a surprise for the audience. He arrived in Kyiv earlier in the day for a previously unannounced visit to meet the Ukrainian leadership and discuss the ongoing counteroffensive and recovery efforts.
During the summit, Blinken said he knows how difficult it is to navigate the challenges of mental health issues during peacetime, but he can not imagine "the strength and the resilience that it takes" to deal with them during wartime.
"We know that Russia's war is leaving many suffering in ways that we can not fully see or can not fully measure. It is estimated that over half of Ukrainians may need mental health support as a result of the traumas of the war," Blinken said. "The crimes against humanity that they witness, the pain of having their children abducted, constant air raids…"
"I'm here today on behalf of President (Joe) Biden, on behalf of First Lady Dr. Jill Biden, to make this statement for the Ukrainian people: Just as the mental health effects of this horrific conflict will endure after the war ends —- so too will the United States' efforts help you shoulder and heal all of these invisible wounds," Blinken said.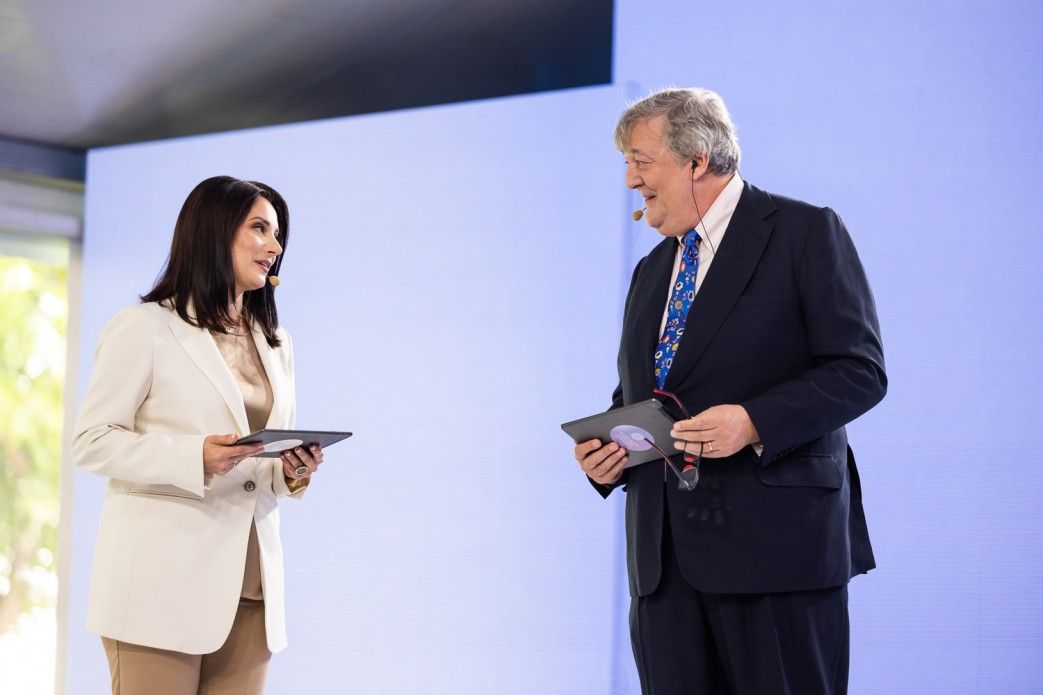 "When we tell you that America will be with you for the duration, this is a part of what we mean," he added.
He also said that the U.S. is committed not only to help Ukraine reach its long-term military goals but to "its democracy, its economy, and most of all — its people."
Despite the difficult topics addressed at the event, there were lots of positive moments that produced hearty laughter.
Fry's presence was a special treat for the guests, but he brought more than his outstanding sense of humor and charisma.
From the stage of the summit, Fry opened up about his personal struggles with mental health. He said he was diagnosed with bipolar disorder at the age of 14, spent a little time in prison, and attempted suicide by mid-30s.
"All this time, my career was quite successful, and there seems to be no reason for this storm in my head," he said.
Fry made a film on mental health and is the president of Britain's largest mental health charity "Mind."
He said that even though mental health issues are serious and can potentially be life-threatening, people can still "live, love, thrive, and be hugely successful," adding that certain conditions are not a life sentence. Fry observed this paradox in Ukraine, too.
"The world can see that you are getting on with your lives happily. I walk down the streets, I see cafes open and pavements spilling with people laughing and enjoying life. The world can see that, and it's important that the world sees that," he said.
"But it's also important that the world sees how serious the threat is to your autonomy, your independence, and your very existence," Fry went on.
"It is possible to send double messages in this world: About Ukraine, a happy country, succeeding, fulfilling your life. But you are under terrible threat."
"Being here at these dire circumstances, you have thrived and prospered and inspired the world," he said.
When talking about his impressions of Kyiv and its residents, Fry said he "expected all kinds of things, but I did not expect the most common thing I saw, which is laughter."
"I've met people who have lost their limbs and people who have lost families, but all of them seem to have a united Ukrainian sense of humor that I think explains the great deal of your success in the last year or so. I applaud that because I'm a great believer in laughter," he said.
https://kyivindependent.com/worlds-first-ladies-gentlemen-discuss-mental-health-at-zelenskas-summit-in-kyiv/