War continues, winter approaches, BEARR's partners keep working
The vicious attacks on Ukraine and its civilians and civilian infrastructure are into their eighth month, and tens of thousands of homes in cities, towns and villages lie in ruins. Countless lives have been lost or devastated and many people, both sheltering abroad and still in Ukraine, wonder what winter will bring, and how they will get through it. Recent Russian missile attacks on key Ukrainian cities, including central Kyiv, have not only taken lives and livelihoods, but deliberately destroyed electrical transformer stations and central heating infrastructure. More than 80 cruise missiles were launched in one day, half of which hit civilian targets in Ukraine. Many apartment blocks were destroyed, whole areas were plunged into darkness and cold, and people fled into shelters. Inflation is at 26% and climbing. In Moldova, which is sheltering many Ukrainians, threats to gas supplies from Russia, poverty and inflation are also making life very difficult for both refugees and citizens.
BEARR's partners in Ukraine and Moldova have grown in number since the appeal began. We have funded and are still funding CSOs that we have known for years, new ones that have come to our attention and volunteer groups that have heard of us and asked for help, including a boxing club which has turned to humanitarian work! They are continuing to save, evacuate, shelter and provide essential supplies to vulnerable people. In addition, they are providing psychological support for children and adults, play spaces, sports and art therapy, and crucial medical supplies and rehabilitation. Some have organised first aid training and set up sewing workshops for internally displaced people (IDPs). One CSO laid on respite care and therapy for children with disabilities. They told us: "Many internally displaced families, including those raising children with special educational needs, have come to our region, which is currently relatively safe. We held a summer rehabilitation camp for families raising children with disabilities. We took the families to a safe place and organized corrective and developmental measures. The funds provided by you have been used in full. The remainder was used for transportation costs for transporting families to the venue of the inclusive camp."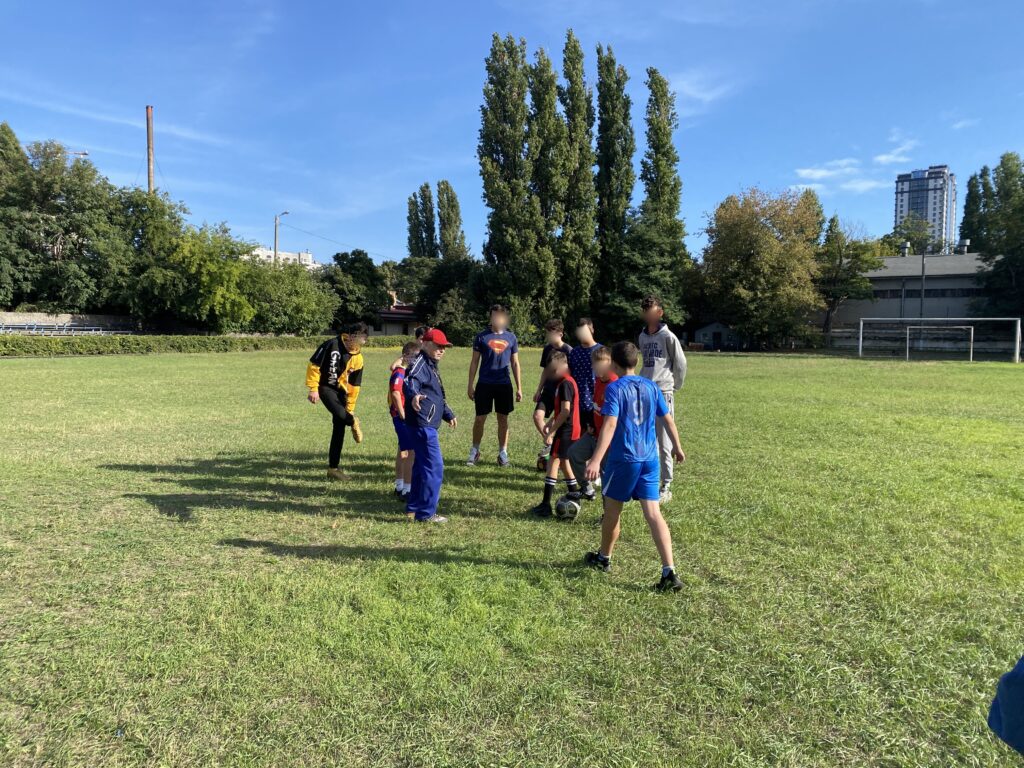 Our readers will have heard about the appalling bombs that fell on an apartment block in Zaporizhiya city just before dawn on 6 October. (While part of the province of that name is occupied by Russian forces, the main city is under Ukrainian control and has become a place of refuge for many thousands who have fled from further east and south.) Within a couple of hours we were contacted by two partner CSOs in Zaporizhiya who have previously received several grants, asking us to help them alleviate the various needs of those who had just lost their homes, with bedding, clothes, and psychological counselling. The request came through to the BEARR office and was picked up at 8am UK time and within two hours the appeal working group of trustees had approved the requests and the transfer of funds was made by 10am.
We continue to send funds for what we consider to be worthwhile humanitarian activity, prioritising donations to small CSOs and volunteer groups, in accordance with BEARR's traditional approach. Since the appeal was launched in February we have raised £350,000, of which approximately three quarters has been disbursed and spent. About 45 CSOs and volunteer groups have received funds from BEARR in that time. Apart from urgent support for victims of such atrocities, there are enormous needs for the many people who are homeless, in temporary accommodation or shelters and who, as the nights and days turn colder, will be without their usual home comforts and winter clothing. Partners are asking us for funds to obtain blankets, sleeping bags, generators, heaters, and warm clothes. When the invasion started in February, many individuals donated clothes and blankets, but as many more thousands have been made homeless, these supplies have run out.
---
BEARR's Emergency Ukraine Winter Appeal

Please donate here: https://cafdonate.cafonline.org/19892 
Read more about our winter appeal here: https://bearr.org/2022/10/17/ukraine-emergency-winter-appeal/
Every penny you donate will be passed on as quickly as possible.
BEARR is paying for any administrative costs and money transfer fees itself.
Please contact info@bearr.org with any questions.
---