Project report: Partnership for Education and Communication, Georgia
Grantee: Partnership for Education and Communication (PEC), Georgia
Project: "MERIT-ME Migrants' Empowerment and Reintegration through Training, Mentoring and Engagement"
With the support of The BEARR Trust, PEC successfully implemented the project "MERIT-ME Migrants' Empowerment and Reintegration through Training, Mentoring and Engagement". The initiative focused on women and young people, mostly from the cities, municipalities and villages of Imereti, Guria, and Samegrelo, who mainly work seasonally on tea and hazelnut plantations in neighbouring countries.
The pandemic and consequent border restrictions left migrants struggling, facing barriers to crossing borders or being left in isolation and unable to get home in time. Due to these barriers, migrants were left behind in poor socio-economic conditions in Georgia. The project aimed to address these challenges by improving the social welfare of seasonal women workers and young migrants by enabling them to access information, education and resources and develop their potential, and mentoring them to become socially and economically sustainable in their places of origin.
The project proposed an integrated approach by offering a three-in-one package for beneficiaries: access to information and resources; capacity building for leadership, entrepreneurship, and career development; and personal face-to-face and distance counselling, mentoring and coaching to realise their individual plans for achieving social welfare.
Infographics created for the beneficiaries: www.pec.org.ge/language/ka/infographics/
As part of the project, a Resource Kit was created for seasonal migrants aimed at social empowerment. The Kit brought together information about: all state, private and civil society reintegration programs; professional development opportunities, state-funded local vocational educational programs, employment and career development portals; and entrepreneurship-supporting opportunities. Participants were also given detailed instructions on how to use the online counselling platform mentoring.ge for personal development.
Our Training of Teachers (TOT) module allowed 15 women from Imereti, Guria and Samegrelo to build their skills on how to disseminate information and resources as community educators, covering reintegration, leadership, vocational education, career development, and entrepreneurship. 
300 migrants and their family members in the villages and municipalities of Imereti, Guria and Samegrelo attended outreach information educational meetings, with community educators using all kinds of places, including school and administrative buildings, family houses (especially in religious minorities), and community centres.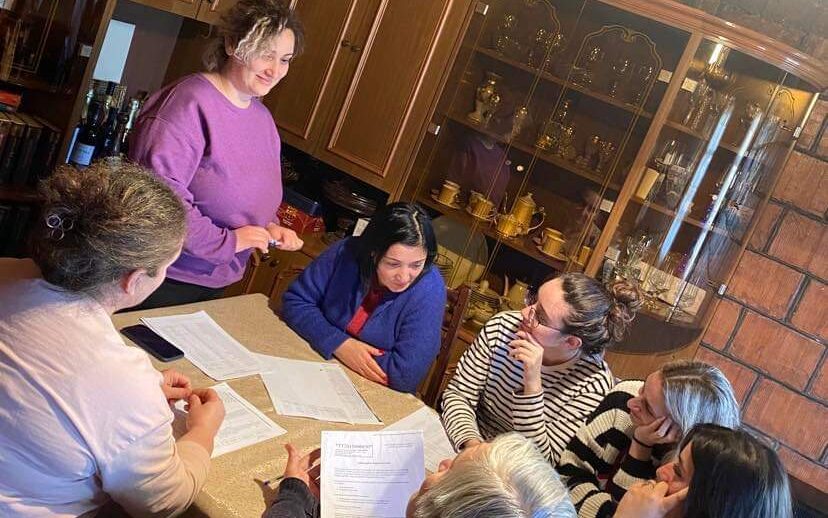 I went to Russia, where I had to work as a nanny in different families. The responsibility was great and the pay scanty. Because of this, I did not finish my last year in school. After the war broke out, I had to come back to Georgia. I am currently unemployed. It was good to hear such information. Before the meetings, I believed that as I did not have a School Certificate I could not continue any kind of education. At these workshops I understood that there are several state-funding vocational education programmes I can apply for." – Young girl from Kutaisi, Imereti
PEC provided online information and counselling for seasonal migrants through the existing online platform mentoring.ge on leadership, career development and entrepreneurship. Through counselling and mentoring, PEC assisted the beneficiaries with career development services including: CV writing; registering and applying for work via various portals; hearing about and applying for state-funded vocational education programmes; developing business plans and proposals for local small entrepreneurship and start-up funds; and personal development plans.
Like my neighbours, I also work on tea plantations and gathering nuts in Turkey every summer. The money earned in this period is insufficient to sustain me throughout the year. The information you provided motivated me to think about how I could write a business plan for my strawberry garden development. The mentoring gave me very helpful resources and information. I am planning to apply for "To Enterprise in Georgia". If I succeed, I will not have to work all summer as a migrant worker." – Migrant woman from the village of Bukistsikhe, Chokhatauri Municipality, Guria
Unanticipated results
One of the participants in TOT was a journalist and he wrote an article about the project in a local newspaper, which gained high interest and demand for meetings. To respond to this increased demand, community educators conducted an information campaign in the streets as well.
Another community educator was a teacher by profession who, in addition to meeting migrants locally, also conducted online meetings with parents of students working in Greece, Italy, Turkey, and other countries, informing them about reintegration programmes and online counselling platforms.
To help migrants and those seeking shelter from Ukraine, PEC prepared information posters in Ukrainian and English and disseminated them on targeted Facebook groups and hotels hosting migrants. With these leaflets, migrants were able to get information on where they could apply for services, assistance and support.
As part of the project, PEC developed two information graphic videos and 5 info posters for migrants regarding state and non-state opportunities for reintegration and social empowerment in the following thematic areas which were introduced during meetings with beneficiaries: professional and adult education for migrants; employment and career development opportunities for migrants; entrepreneurship and business opportunities; legislative and policy support mechanisms.
Organisation contact details:
Eristavi Str 8, Sector 2, Tbilisi 0192; Georgia
Email: info@pec.org.ge
Telephone: +995 577 311 377
Website: pec.org.ge mentoring.ge
Author contact details
Zhaneta Kilasonia, Executive Director
Email: info@pec.org.ge