Bringing help and justice to the victims of wartime sexual violence In Ukraine
Anxiety, Depression, Nightmares': Bringing Help, And Justice, To The Victims Of Wartime Sexual Violence In Ukraine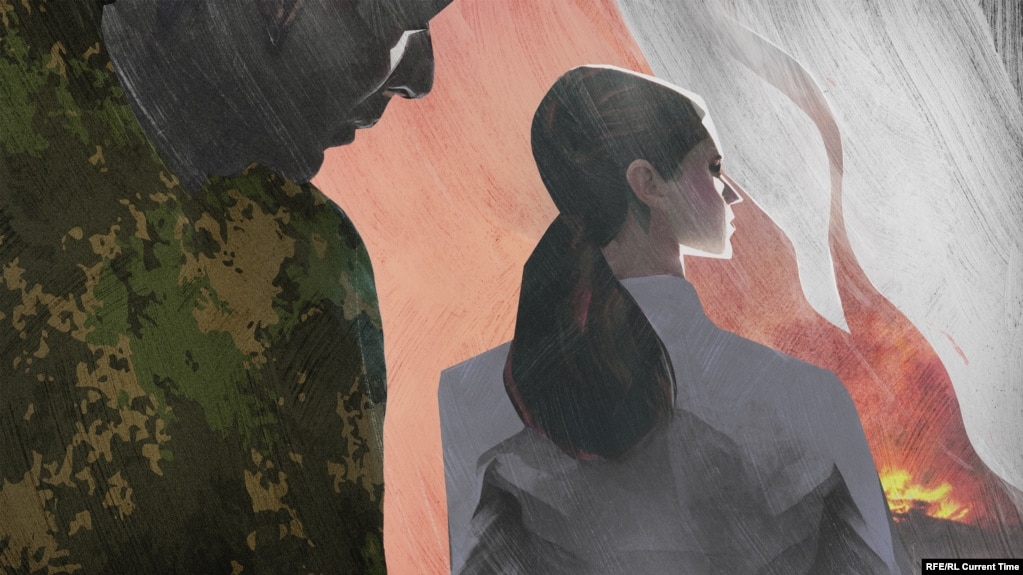 In November, a court in the Ukrainian city of Chernihiv convicted two Russian soldiers in absentia of "violating the rules and customs of war" through repeated incidents of sexual abuse against a young girl and threats to murder her.
"In March 2022, [Ruslan] Kuliyev, while located in a settlement in the Chernihiv region, repeatedly attempted to rape a minor local resident, beat her on the head with his weapon, and suffocated her," prosecutors said of one of the defendants. "In addition, he repeatedly assaulted her brother and intimidated him by firing at his feet."
Kuliyev was sentenced to 12 years in prison, while the other soldier was sentenced to 10.
From the beginning of Russia's massive, unprovoked invasion of Ukraine on February 24, 2022, incidents of sexual violence and sexualized torture by Russian troops were reported in areas they overran. Over the course of the war, as some Ukrainian territories have been liberated following weeks or months of Russian occupation, Ukrainian officials and aid workers say the number of such cases has reached the hundreds. But there may be many more.
"Whatever reports are surfacing can only represent the tip of the iceberg," said the UN's special representative on sexual violence in conflict, Pramila Patten, at a Kyiv press conference in May 2022. "Wartime rape can no longer be dismissed as an inevitable by-product of war. It must be recognized by all parties as a crime that can be prevented and punished."
Despite the widespread testimony and evidence, Russian officials deny that its troops have targeted civilians or committed war crimes during the invasion, which the Kremlin euphemistically insists on calling a "special military operation."
A network of Ukrainian law enforcement officials and humanitarian aid groups are now working both to provide aid and comfort to the victims of sexual violence and to gather evidence that could be used to prosecute suspected perpetrators.
"We don't have to wait for Russia to lose," Oleksandra Matviychuk, head of Ukraine's Center for Civil Liberties and a co-laureate of the 2022 Nobel Peace Prize, said in an interview with RFE/RL in November. "Why should we make people's demand for justice dependent on this?"
'It Happened So Quickly'
Since the invasion began, the Hungary-based Cordelia Foundation has provided assistance to more than 730 Ukrainians, many of them victims of sexual violence.
"They are frequently experiencing anxiety, depression, a lack of strength or motivation, various sleep disorders, including nightmares," and other problems, said Cordelia founder and psychiatrist Lilla Hardi. "Many of them try to work more and 'not think about the past,' while others focus on their children and still others think about leaving home and building some better future in peace."
The Lithuanian feminist organization Lygiai has focused on victims of sexual violence since the Russian invasion began.
"Already during the second week of the war, we had requests for pregnancy tests," said Lygiai founder and director Reda Jureliaviciute. "We were quite surprised that such sexual violence had already begun. It happened so quickly."
"At the time, large aid organizations like the Red Cross were sending very few pregnancy tests," she added. "So we assembled our first shipment. It turned out we bought almost all the 'morning after' pills in the whole country. Previously, there wasn't such demand for them in Lithuania."
Lygiai works with local organizations in Ukraine to deliver their aid shipments to the people who need them, Jureliaviciute said. In addition to the tests and birth control, the group sends feminine hygiene products.
"Not many people think about such matters during wartime," she said. "It isn't as prestigious to send menstrual pads as it is, for instance, to send helmets to the army. But women still menstruate during wars, and it is very important to have access to personal hygiene products."
The group also provides aid to Ukrainian refugees in Lithuania.
"We don't ask women if they experienced sexual violence," Jureliaviciute said. "They need to build trust first. Our main idea is to make such services available, either psychological or medical. The stigma surrounding sexual violence is still very strong, particularly in Ukraine."
'Say Hello'
A United Nations report in September found 30 cases of sexual violence committed by Russian forces since the invasion, including the rapes of eight women and one girl, and "15 cases of sexual violence as a method of torture or ill-treatment of men."
Ukrainian officials and aid workers say the number of documented cases has skyrocketed with the liberation of parts of the Kharkiv region and other areas in the northeast in September 2022 and the liberation of the city of Kherson and nearby areas in the south in November. According to the Ukrainian Prosecutor-General's Office in February, hundreds of victims have been interviewed, while 155 have agreed to testify in court about their experiences. In at least 11 documented cases, the victim was a minor.
"Even in peacetime, people can be reluctant to report rapes," said prosecutor Iryna Didenko, who heads the special unit investigating war crimes related to sexual violence that was formed in September, in an interview with Current Time. "Some 155 people have agreed to participate in criminal proceedings, but the number of victims is much greater. Doctors and psychologists are working with them to help them discuss what happened to them."
Prosecutors have investigated 38 cases in which the victims were men, 37 of them in the recently liberated parts of the Kherson region. Law enforcement officials have uncovered torture facilities in the region where Russia's Federal Security Service (FSB) allegedly targeted the relatives of Ukrainian soldiers, officials, and resistance activists.
"FSB officers are carrying out various tortures on a large number of people, including some with elements of sexual violence," Didenko said. "If a man is serving in the army or worked for law enforcement, his relatives will be first in line. His mother, his wife, or his daughter might be tortured and then released with a request to 'say hello' to their son, husband, or father."
Didenko added that the practice of sexual violence by Russian forces appears to be so widespread that she suspects it is carried out with the knowledge of Russian occupation authorities.
As soon as an area is liberated, Didenko said, officials send in specially equipped vehicles.
"There is a psychologist in the vehicle as well," she said. "After a medical examination and the gathering of evidence, the victim can be evacuated. They are even allowed to take their pets with them."
Psychologists determine a course of therapy and/or medication for victims, whose mental state ranges from stable to nearly suicidal, Didenko said.
Mariann Ziss, a Hungarian psychologist who works with Ukrainian victims, said she has been struck by statements on social media and in intercepted telephone conversations in which Russian soldiers seem to confess to genocidal motivations.
"They are trying to debase another nation through the body of a woman," Ziss told Current Time, the Russian-language network run by RFE/RL in cooperation with VOA. "It is a message to all the women and men [of the country]."
'Cautiously Optimistic'
Khrystyna Kit is the director of JurFem, an association of female lawyers that, since the Russian invasion, has become "a place of support for survivors of sexual violence."
The organization operates several assistance centers where victims of sexual violence can receive free medical, psychological, and legal assistance. JurFem volunteers also work on telephone hotlines organized in many regions by lawmakers.
"If a victim does not receive psychological help or work with therapists, then they will not be able to reach out to law enforcement or participate in a criminal prosecution," Kit said. "It is very important for us that victims testify. Forensics and other evidence are all crucial."
Kateryna Borozdina, vice president of La Strada Ukraine, said her organization has launched an anonymous chat on Telegram to give victims a place to tell their stories confidentially. She said using the chat can be the first step toward overcoming the fear and shame that prevents many victims from seeking legal assistance.
Kyiv is working with foreign prosecutors in conjunction with the International Criminal Court on the creation of a tribunal for prosecuting war crimes in Ukraine, including cases of sexual violence.
Prosecutor Didenko said she is "cautiously optimistic" that some perpetrators will eventually be punished.
"Our colleagues and partners from JurFem are helping us draft strategic documents, since Ukraine's experience has been unique," Didenko told Current Time. "We are developing our own methodologies, which will then be integrated and adapted to international norms."
JurFem Director Kit said each victim has their own idea of what justice might look like.
"Some want the criminals to be arrested and imprisoned," Kit said. "Others want compensation in the form of rehabilitation and medical and social assistance. Others want a guarantee of nonrecurrence of such crimes. A guarantee of nonrecurrence is a form of reparations that we can provide when we bring those responsible to justice and punish them."
Written by RFE/RL correspondent Robert Coalson based on reporting by Kateryna Hatsenko and Kristina Zakurdaeva of Current Time