Ukrainian civil society defiant in face of onslaught
Kyiv Declaration: Ukrainian civil society defiant in face of Putin's onslaught
TFN – The voice of Scotland's vibrant voluntary sector
Warnings made that human rights groups could be targeted by Russian occupation forces
Civil society groups in Ukraine are continuing their vital work under the harshest possible conditions and the threat of death – but they are not giving up.
100 leaders of organisations representing charities and NGOs across the country have come together to sound a note of defiance in the face of the Russian invasion.
And they have told the world what it can do to help them and the whole Ukrainian people as they face Vladimir Putin's murderous onslaught.
Civil society groups have created the Kyiv Declaration which contains a series of six urgent appeals to the world.
These are: the establishment of safety zones in Ukraine to provide sanctuary for civilians from both air and ground attacks and to help prevent a tide of refugees fleeing to Europe, immediate defensive military aid, both lethal and non-lethal, the tightest sanctions possible against the Putin regime, immediate humanitarian aid which will help to fund and equip groups on the ground, an asset freeze on the Russian oligarchs and material assistance to Ukrainian groups recording war crimes.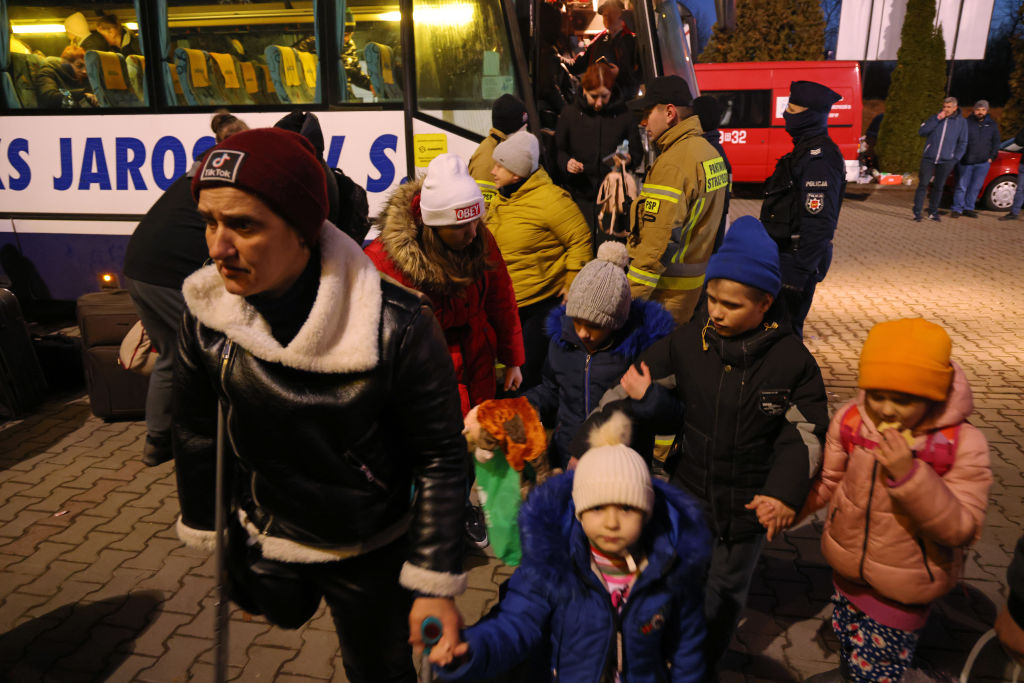 The Kyiv Declaration reads: "Putin has unleashed a bloody war on the people of Ukraine. Our hospitals, schools and homes have been bombed, our streets filled with tanks, our sons and daughters shot. Why? Because we stood up to authoritarianism and chose a better life. We chose democracy. We chose freedom.
"As our nation takes up arms to defend our homes and our families, we, as leaders of over 100 Ukrainian civil society organisations, have come together with six urgent appeals to the international community.
"#StandWithUkraine by sharing on social media. As civil society leaders, our lives have been dedicated to fighting for what is right. But today, we must fight for our lives.
"This is not just a war against Ukraine, it is a war against the fundamental principles of democracy. A great iron chain is being drawn across Europe, that Putin hopes will sink any society that he believes strays too far into the light.
"We are fighting with everything we can, but we cannot win with courage and conviction alone. We need help. And we need it now. We ask the international community to stand with Ukraine."
Global civil society organisation Civicus told TFN it is monitoring the situation, but it is having difficulty contacting member organisations amid the chaos.
A spokesman warned that those documenting war crimes and human rights abuses could be targeted by Russian occupation forces.
He said: "The protection of human rights defenders, journalists and activists should be a priority, in line with international law. In Russia's previous invasion of Ukraine in 2014, many journalists were killed in the line of duty and others were taken hostage. Human rights defenders and journalists have a responsibility to document human rights violations, a role which is critical for the international community to hold the perpetrators responsible.
"In a letter to the United Nations Commissioner for Human Rights a few days before the Russian invasion, the United States expressed serious concerns about information in its possession that Russia has created lists of people including journalists, activists and minority groups who they plan to kill or send to camps.
"All parties to the conflict have a responsibility to protect human rights defenders, journalists and civilian populations and guarantee the free flow of humanitarian aid where necessary."
kyiv-declaration-ukrainian-civil-society-defiant-in-face-of-putins-onslaught